Student Innovation Challenge
The student innovation challenge invites students to use haptic technology in new, creative ways to solve real-world problems. This year, teams will work with the Vybe haptic gaming pad, a multi-actuator device resembling a sports car seat. The gaming pad is equipped with six voice coils and six DC motors and can be placed on many surfaces, from seats and couches to beds and mats, or even rearranged into wearables like vests.
Teams first submit a proposal for their application using the gaming pad. Applications are varied: entertainment, education, accessibility, environmental technology, or other ideas altogether are all possibilities. Successful teams will receive one gaming pad and the communication protocol to control individual actuators through USB serial communication. Teams will compete for $2,000 in cash prizes, and all teams may keep their gaming pads after the competition. The Student Innovation Challenge is sponsored by Disney Research, Google ATAP, and the IEEE Technical Committee on Haptics (TCH).
How to Participate
To participate, a team must submit a two-page proposal (see submission information below). Eight to ten teams will be chosen and notified. A Vybe haptic gaming pad will be shipped to the selected teams, who will be given access to supporting documents and application notes. All team members must sign a participant agreement made available on the project website before the proposal deadline. After all team members have signed the agreement, the team will have access to the communication API, development instructions and examples, project website, detailed construction and design drawings.
Teams will have approximately eight weeks to write and test their applications before presenting it at the IEEE Haptics Symposium in Philadelphia, PA, USA to conference attendees. A panel of judges will evaluate each application and select an overall winner and an honorable mention. At least one team member will be expected to attend the full conference to present the team's application and will be responsible for applicable registration fees, which are estimated to be approximately $300 for a student who is a member of IEEE.  See the Student Innovation Challenge page for a listing of selected teams.
The Hardware
The Vybe haptic gaming pad is a vibrotactile grid display that has six voice-coil actuators located on the upper back and six DC-motors located on the seat and lower back. An embedded electronics board drives these actuators, each individually controlled through a custom API. Voice-coils play smooth vibrations (150-250 Hz) and DC-motors play rumble-like effects. Combined together they trigger a wide area on the user's body and enable a variety of haptic effects. The gaming pad is equipped with a powerful Cortex-M3 processor by ARM and interfaces with a computer via USB.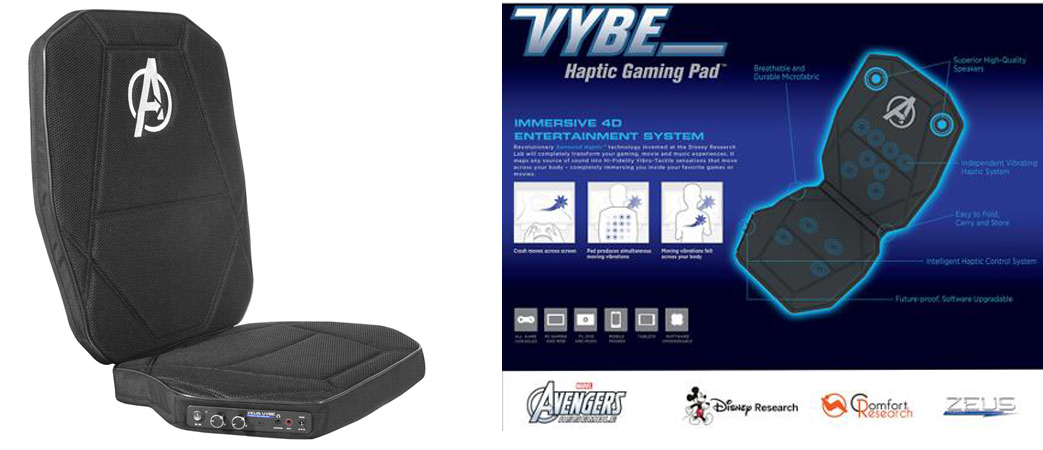 The Challenge
Participants will create applications that attempt to solve a real-world problem. The Vybe haptic gaming pad must be a significant part of the application, but teams may alter it to fit other embodiments, such as vests or mats, if desired. Teams are encouraged to use visual displays, sensors, data streams, camera feeds, and other input methods to create innovative and interactive applications.
How to Apply
To enter the challenge, a team must submit a two-page proposal in PDF format, including a short pitch (30 words maximum), a description (300 words description), concept images and/or sketches, and names of all team members and their qualifications (level, experience and backgrounds; a web-link to an online portfolio or website is preferred). Each team will also provide a contact name, email address, and a physical address for shipment of the pad. You can find examples of last year's successful submissions below.
Qualifications
The challenge is open to undergraduate and graduate students. Teams may have between two and four members. Teams are free to enlist professors, teachers, and professionals as advisors, but the work must be done by the students only, and all team members must be students at the time of submitting the application.
Writing a Good Submission
There are many possible applications of vibrotactile grid displays. One example is enhancing gaming experience to provide directional cues while driving a car or performing manual tasks. However, don't let the creativity stop there. Haptics can also improve the experience of an interaction that is primarily visually or audibly based with increased expression or better feedback. A good submission will address a real-world problem in a creative way. Your two-page proposal should help us understand:
The problem you are trying to solve and why it is important.
What your application will do and how people will interact with it.
Why a tactile grid display is appropriate for your application.
A roadmap for development and how your team's skills can achieve them.
Good design requires iteration, and we don't expect your final app to be exactly as you describe in your submission, but your concept description should be well thought out, and it should have a plausible chance of working. You can find examples of last year's successful submissions here (note that this year the proposals must be at most two pages):
Submitting
Submissions will open in late November 2015, on the conference website. Interested teams will complete the submission form, sign the participant agreement, and submit their proposal by 8:00 p.m. PST on January 8, 2016. If you have any questions, please email studentinnovation@hapticssymposium.org.
To submit, each team must:
Complete the online submission form at: http://bit.ly/HAPTICS16-SIC
Email their two-page proposal document in PDF format to studentinnovation@hapticssymposium.org with "Proposal:" in the subject line.
Have all team members complete the Participation Agreement found at http://bit.ly/HAPTICS16-SIC-Agreement
Travel Grant Application
Students are highly encouraged to raise funds to support their own travel expenses. Possible sources include local companies and the department or dean's office at your university. Additionally, limited funding is available in the form of travel grants for accepted teams to help students defray travel costs. Travel grants are considered separately from the main application, and on the basis of need. Travel grant applications will open on February 8, 2016.
Before the Conference
Teams will submit a two-minute video and required materials by 8:00 p.m. PST on April 1, 2016. The video should briefly explain the problem being solved and show the application in action.
Awards
Awards will be presented to the top submissions. Judging criteria will be:
Quality of haptic feeling
Originality/creativity
Utility
The winning team will be awarded with a US$1,000 cash prize for the "overall best interaction". Additional prizes include a US$500 cash prize for the "people's choice" as voted on by conference attendees, and a US$500 cash prize for honorable mention. Judges will represent both industry and academia.
During the Conference
A special demonstration time will allow the judges to interact with and try the applications in person. Additionally, teams will display their applications during demonstration hours and breaks at the conference.
Important Dates
Jan 8 Jan 15 (extended) – Applications Due (8:00 p.m. PST)
Jan 22 – Teams Notified
Jan 25 – Hardware sent to teams
Feb 8 – Travel grant applications open
Mar 6 – Deadline for Early Conference Registration
Apr 1 –Videos Due (8:00 p.m. PST)
Any questions can be addressed to the Student Innovation Challenge co-chairs at studentinnovation@hapticssymposium.org