Banquet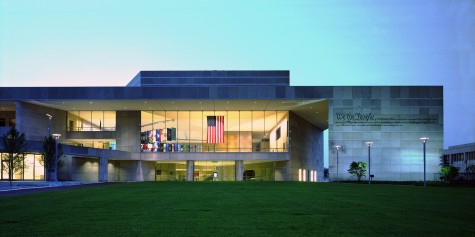 The 2016 IEEE Haptics Symposium banquet will take place at the National Constitution Center, an institution established by the U.S. Congress to "disseminate information about the United States Constitution on a non-partisan basis in order to increase the awareness and understanding of the Constitution among the American people." It is a beautiful building in the most historic area of Philadelphia, just a short distance from the conference hotel.
The banquet will take place in the evening on Sunday, April 10. Attendees are asked to travel to the banquet on foot or via public transportation after the conference ends that day, aiming to arrive around 6:30 p.m. Student volunteers will be leading both walking and public transportation groups; meet in the main hotel lobby starting at 6:00 p.m. to join a group.
Instructions to travel to the banquet are included in your registration materials. Please remember to bring your banquet ticket, which is also in your registration envelope.
The banquet will begin with cocktails at 6:30 p.m., followed by a seated dinner at 7:30 p.m. After dinner, guests will have the opportunity to attend a multimedia performance, "Freedom Rising." The show will be followed by a dessert reception. Student volunteers will be available to help attendees travel back to the conference hotel.